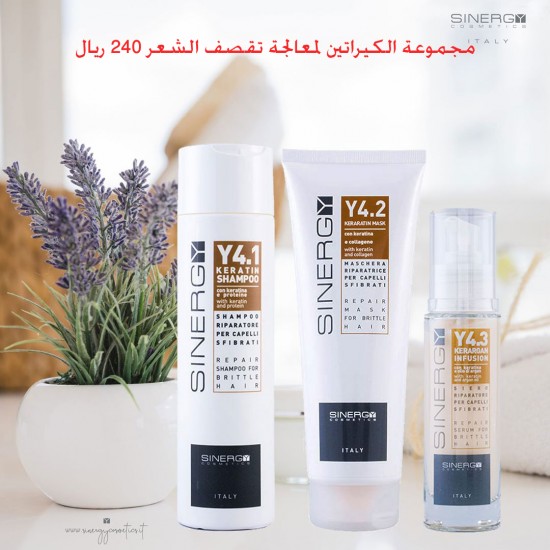 New
Keratin Set to Treat Split Ends
Stock:

In Stock

Model:

sampoo
A special Natural set to Treat Hair Breakage, especially at the ends
Made of Natural Keratin that strengthens damaged hair follicles And fragile
and cleans the hair scalp of the chemicals stuck to the scalp.
The group also works to protect the Hair from External and Atmospheric factors
and protects the Hair from salt water.
The set consists of 3 products as follows:
1- KERATIN SHAMPOO- Y4.1
2- KERATIN MASK FOR BRITTLE HAIR -Y4.2
3- Kerargan INFUSION- Y4.3
How to use:
Wash the Hair with the first product, shampoo, and massage the scalp and leave the hair foam
For at least 3 minutes, then wash the hair with water well,
then put an amount of the second product Keratin mask on the hair with combing and leave it
at least 2 minutes and then wash the hair Well with water,
then after you finish taking a shower and dry your hair with a towel, put an amount of the product the third
is Keragan infusion (a creamy serum composed of natural keratin and argan) And with combing the hair and
leave it on the hair.
This group is very concentrated to Treat Hair Breakage, protect Hair and work to get rid of it From the roots of
Yellow Hair, it also works to strengthen hair follicles in a natural way and get rid of it It prevents hair loss and
dandruff, maintains the natural color of hair and gives luster and elasticity to the hair