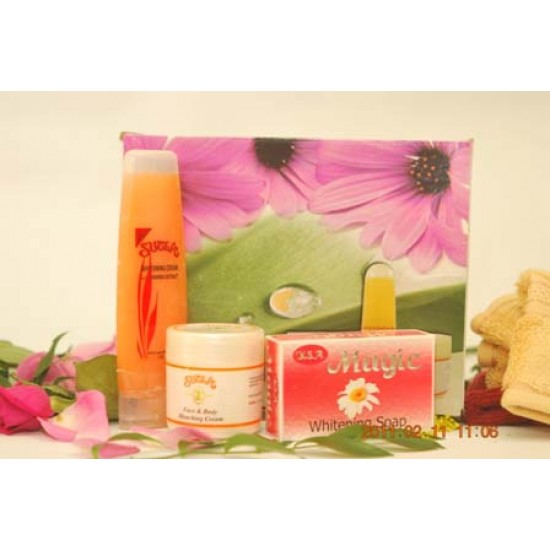 Hot
Philippines Magic Group for Whitening Skin
Stock:

In Stock

Model:

كريم
The magic Group for Whitening Consists of 3 Natural products as follows:

Magic Soap SR30 Magic Scrub at SR48 Magic Cream at SR50

Formulated with 100% Natural Whitening Skin Ingredients as:
Virgin Coconut Oil, Glycerin, Sunflower Oil and Vitamin C work together to Naturally Whiten the complexion of the Skin

Magic in seven days and Remove pimples, wrinkles and do not cause sensitivity or any problems for the Skin.

How to use: To get Whiteness of the Skin within 7 days, follow the Instructions:

1- Use the magic Soap during bathing for the whole body, for the face only, or for the area that needs bleaching, then Leave the foam on the body for 3 - 5 Minutes, then rinse it off with water in a normal way.

2- After showering and drying, Use Magic Peeling on the face and neck, or any area with blackness that needs peeling and whitening with gentle rubbing by hand to remove dead cells, then wash the face with water and dry it in a normal way.

3- After using soap and peeling, Use The magic Cream on the face, neck, and any area that has darkening and needs whitening.

You can use the magic cream as a basis for makeup.
This set can also used for any area of ​​the body that has blackness or need Whitening and can also be used to whiten the Sensitive Areas.
(The group does not have any Negative effects on the skin)