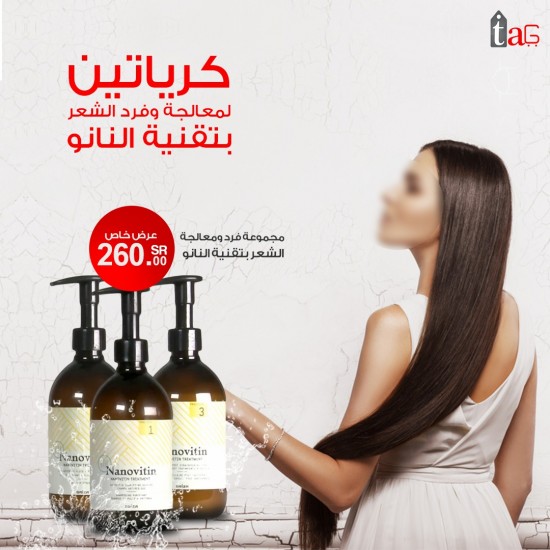 New
Nano Hair Treatment
Stock:

In Stock

Model:

كريم
Nano hair straightening and treatment group
https://www.youtube.com/watch?v=K4j4Ia6xl_A

This group consists of 3 natural products specially formulated to treat and straighten curly hair using NANO technology that treats and keeps hair follicles from drying out and split ends.

* Natural range free from any chemicals

* is classified and approved by the Food and Drug Administration

* Use for all hair types J Complete treatment for curly hair

* Does not affect colored hair. J Does not affect previously treated hair

* This set can be done at home or in salons.

How to use (preparation stage - treatment stage - smoothing stage)
First (preparation stage): Product No. (1) uses shampoo: The hair is washed with shampoo in a very good way. Fully consulted.

Second (the treatment stage): Product No. (2) is used. The processor: After washing the hair with Product No. 1 and drying it completely, the processor No. 2 is placed on the hair in a way of strands with combing with the comb until the hair is complete and the processor is left on the hair for 30-40 minutes with a note losing hair After 15 minutes of applying the processor, if there are spaces in the hair, you need to put more processor, then wash the hair well with water and dry the hair by pulling a strand of 10-12 times by Straighter at a temperature of 230 ° C.

Third (the smoothing phase): After washing the hair with shampoo No. 1 and the processor No. 2 and drying the hair, wash the hair with water and put the mask on the hair for 10 minutes, then wash and dry the hair with a dryer, thus completing the process of treating curly hair.